THE UNFOLDING OF MY CHAKRATA KARMA.THE STORY ABOUT MY BAJAJ VESPA SCOOTER OF 1974.


THE STORY ABOUT MY BAJAJ VESPA SCOOTER OF SPECIAL FRONTIER FORCE: I AM SHARING THIS PHOTO ILLEGALLY OBTAINED BY A CHINESE SPY. THE PHOTO WAS TAKEN AT CHAKRATA ON 03 JUNE, 1972 WHILE HIS HOLINESS THE 14th DALAI LAMA WAS PRESENTED A GUARD OF HONOR BY MAJOR GENERAL SUJAN SINGH UBAN, AVSM, INSPECTOR GENERAL, SPECIAL FRONTIER FORCE. THIS PHOTO IMAGE IS MY EVIDENCE ABOUT THE ACTIVITIES OF THE ENEMY AGENTS AT CHAKRATA.
The story of my Bajaj Vespa Scooter begins in Chakrata, Uttar Pradesh (Uttaranchal) while I served in Special Frontier Force, Establishment No. 22, Vikas Regiment. I had no need for a Scooter while I worked in Chakrata. I made this purchase at Canteen Stores Department (CSD), Dehradun just a couple of months prior to my departure from Chakrata when I got posted to the Bison Division, Bolarum, Secunderabad Cantonment in December 1974.
For the first time in my life, I received the riding instructions from a military driver and rode this Bajaj Vespa Scooter on the driveway of the Establishment No. 22 Transit Camp in Dehradun. I never ventured to ride this Scooter on the streets of Dehradun.
However, my Bajaj Vespa Scooter of 1974 inherited the "KARMA" of Chakrata. In January 1974, I experienced a life threatening incident plotted by the Enemy agent while I was the Duty Medical Officer at Military Hospital Wing at Chakrata. This inheritance followed me even after I departed from Chakrata.
In 1982, I experienced a serious mishap while riding the Bajaj Vespa Scooter. In my analysis, the Scooter mishap was plotted by the Enemy agent. I initiated an action for my Self-Defense which eventually shaped my actions to relinquish my Permanent Regular Commission in the Indian Army Medical Corps and depart from India for reasons of personal safety as well as keeping my family away from danger.
VESPA 150 Cc Scooter,1961 Model is very similar to the Bajaj Vespa I purchased in 1974. In my analysis, the Scooter mishap I experienced in 1982 while stationed in Secunderabad was plotted by the Enemy agent.
From 1974, for the next ten years I used my Bajaj Vespa Scooter with the same License Plate ( very similar to the License Plate of the Jeep in the above photo image taken at Chakrata) issued by Government of Uttar Pradesh. The License Plate on my Bajaj Vespa Scooter easily reveals my connection to Uttar Pradesh if not that of Establishment No. 22 or Chakrata. In fact, I spent my time in India until January 10, 1984 without ever mentioning the name Chakrata in any of my conversations either at home or at my workplace. Just like the secrecy around the name Chakrata, I kept my Story about my Bajaj Vespa Scooter as a personal secret and I never discussed about it before with family, friends, or my military colleagues.
Canteen Stores Department (Government of India / Ministry of Defence)
DEHRADUN
Address : Araghar, 61, E.C. Road.
Uttar Pradesh, U.P. (Uttaranchal State) The Story of my Bajaj Vespa Scooter I purchased at CSD Dehradun in 1974. For the rest of my Indian Army career, from 1974 to 1984, I used the Vespa Scooter for my daily commute to work and to perform all other errands.
VESPA 125 (VNA2)
1958
Produced in two colors, grey and beige, the 1958 Vespa 125cc marked a new era. This was the first Vespa with a body which was made by the conjunction of two sheet metal halves. This type of frame had considerable advantages in terms of industrial production and from 1958 started to be used on all models. With the new design a new compact engine was also integrated.
VESPA 150 (VBA)
1961
The Vespa 150 (VBA) was presented in 1958 with a few changes. The color was similar to its predecessors (metallic blue), however the side panels were decorated with aluminum air vents and the rear light was larger and fully chromed. This model made its debut during the Olympic Games in Rome in 1960 and became a great success thanks to its elegance and functionality.
I currently have no photo images of my Bajaj Vespa Scooter. The Scooter I purchased was made in India and looks very similar to the Italian Vespa Scooter models. It had its spare wheel mounted on the back of the Pillion Seat. I don't remember making use of the spare wheel during the ten years time I rode my Scooter. As I was in military service, I had neither the time nor the inclination to give attention to the daily maintenance of my Bajaj Vespa Scooter. Apart from the maintenance of the spark plug, the Scooter essentially provided a service without any hassles. Fortunately, I served in Units that have Vehicle Workshops and provided me with assistance to perform any of the Scooter maintenance tasks.
One of the reasons that many of the Bajaj scooters look like Vespa's is probably due to the fact that 40 years ago Bajaj was allowed to build Vespa scooters under licence from Piaggio. It was only in the mid 1970's that Bajaj split from Piaggio and started with their own designs. My Indian Bajaj Vespa Scooter is Yellow but the seats had black upholstery.
The Story about my Bajaj Vespa Scooter. The Indian Scooter I purchased in 1974 while Bajaj Auto Company was using the Vespa Brand name owned by the Italian Company Piaggio.
VESPA 150 – VL 1 (1954-55). The Story about my Bajaj Vespa Scooter of 1974. I resigned my Permanent Regular Commission in 1983 after I experienced a serious Scooter mishap in 1982.
The Original Indian Vespa. The Story About my Bajaj Vespa Scooter of 1974. My Bajaj Vespa was yellow in color. Otherwise, it looked like this Blue Vespa with the License Plate on the rear end.
It is said that Rahul Bajaj adored the famous Vespa scooters made by Piaggio of Italy. He loved them so much that at the age of 22, he became the Indian licensee to produce vespa. In 1960 Bajaj, pronounced "Bah-jaaj," obtained a manufacturing license from the Indian Government. Under licence from Piaggio, Bajaj Auto Ltd started production of vespa 150 identical to the Italian VBA 150cc model built in Italy between 1958-1960. The original factory facility in Kurla was not up to Piaggio's standards, so a new one was built in Akurdi, near Pune in 1963, the scooters were produced entirely in India, without any parts needing to be shipped from Italy.

But on 31st March 1971 the technical collaboration with Piaggio & Co. expired and the brand name of the vehicles manufactured by the company was changed from Vespa to Bajaj from April. This followed a lengthy legal battle with Piaggio for many years.

The Indian Vespa had a 3 speed engine, round back monocoque chassis, 8″ solid wheels and had no battery. Its is also said that the metal chassis was a thicker grade than that of the Italian made ones. They had an oval speedo but from 1966 these were changed to a round speedo. Over 150,000 genuine vespa badged and licenced scooters were build by the Bajaj factory. Their chassis and engine number started with V252, V402 or V462.

Today many examples still exist on the busy road of India, testament to their build quality. Bajaj went on to manufacture very similar looking scooters for many years on under their bajaj brand with models such as Chetak, Classic, Super and Cub until 2006 when production of scooters by the company ceased. But none had the looks and styling of the original vespa !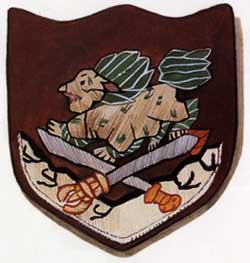 SPECIAL FRONTIER FORCE-ESTABLISHMENT No. 22. THIS SHOULDER BADGE USED BY MEMBERS OF SPECIAL FRONTIER FORCE IS ALLOWED FOR PUBLIC DISPLAY. I PURCHASED MY BAJAJ VESPA SCOOTER AT COD CANTEEN, DEHRADUN WEARING THIS SHOULDER BADGE ON MY INDIAN ARMY OLIVE GREEN UNIFORM.
My Bajaj Vespa Scooter traveled with me since the time I purchased it in CSD Dehradun in 1974 after obtaining a License Plate issued by the Government of Uttar Pradesh. I rode the Scooter in Secunderabad, Hyderabad, Pune, and Ambala Cities.
The Story about my Bajaj Vespa Scooter of 1974. I rode my Scooter in Secunderabad Cantonment and adjoining areas such as Alwal, and Hyderabad City during 1974-75 while serving in Bison Division.
I rode my Bajaj Vespa Scooter in Secunderabad and Hyderabad from December 1974 to December 1975 while I served in the Bison Division.
Armed Forces Medical College, Pune. I rode my Bajaj Vespa Scooter in Pune while attending Courses from December 1975 to September 1976.
My Bajaj Vespa Scooter accompanied me to the Armed Forces Medical College, Pune where I rode it during my Advanced Training in Pediatrics Course and Medical Officers Junior Command Course (MOJC 67/76) from December 1975 until September 1976.
The Story About My Bajaj Vespa Scooter of 1974. From September 1976 to December 1978 I was stationed in Ambala Cantonment serving in the First Armoured Division wearing the Black Elephant shoulder badge.
In September 1976, I moved my family from Pune to Ambala Cantonment while I served in the Black Elephant Division until December 1978.
The Story about My Bajaj Vespa Scooter of 1974. I rode my Scooter to commute to my work and for various personal errands from December 1978 to January 1984 while my wife used my Fiat Car to commute to work and for other family trips.
The Story about my Bajaj Vespa Scooter of 1974. In 1982, as I was riding the Scooter on East Marredpally Road near Shenoy Nursing Home, I sustained facial injuries as I crashed my Scooter hitting a Telephone Pole due to rear wheel brake failure.
Heritage Fresh Supermarket on Entrenchment Road/East Marredpally Main Road, near the Shenoy Nursing Home traffic junction. In 1982, Heritage Fresh was not present. I experienced the Scooter mishap just before crossing the Shenoy traffic junction.
The East Marredpally Main Road- The Entrenchment Road is congested with heavy vehicular flow during the morning peak hours.
Scooter in India is often used as a family vehicle. It is not uncommon to find children riding on Scooters without wearing any protective gear such as helmets.
My Bajaj Vespa Scooter mishap happened in 1982 while I was taking my daughter to Saint Ann's High School (ICSE) on Sardar Patel Road while I lived at 10-3-30, 2nd Floor, East Nehru Nagar, Secunderabad- 500 026 on a side street next to the present location of Heritage Fresh Supermarket on Entrenchment Road/East Marredpally Main Road. I went to the Army Ordnance Corps Centre Medical Inspection Room (M I Room) to attend to my Daily Morning Sick Report work and came back home to give a ride to my daughter going to her School before 8.00 A.M. While I entered East Marredpally Main Road from the side street, I recognized that the rear wheel brake of my Scooter was not working. To avoid colliding with other moving vehicles on the road, I moved to the side of the road which I has no pavement. I could not still control the speed of my Scooter and it came to a halt after I hit a Telephone Utility Pole just before reaching the East Marredpally – Tukaram Gate Road Junction near the Playfield in front of Shenoy Nursing Home.
My daughter who was not wearing any helmet survived this collision without any injury. The news about the Scooter crash reached my home quickly and my wife provided the ride to my daughter in my Fiat car to take her to the School in time.
I sustained facial injuries and a few bruises and avoided a serious head injury after colliding with the Utility Pole. The AOC Centre Commandant was informed about the Scooter mishap. I did not go back to work on that day while I treated myself at my home for the injuries. The Commandant,and his wife visited my home to wish for my speedy recovery and to share their personal concern about the Scooter mishap. As I thought that the Scooter mishap was not an accident due to mechanical failure, I kept my concerns to myself and made no attempt to either document or report my injuries to Indian Army by following the standard protocol such as the filing of Injury Report which often results in a Court of Inquiry to investigate the incident.
VESPA 50R SCOOTER, 1972 MODEL. The Story about my Bajaj Vespa Scooter. Please take a careful look at the above image. The Scooter body shows Collision Damage. In 1982, my Bajaj Vespa sustained damage at the same place as it appears in this photo image.
I will submit my analysis of the Bajaj Scooter rear wheel brake failure mishap and give reasons as to why the mishap could be interpreted as a plot by the Enemy agent and not as simple mechanical failure in my next blog post.
Rudra Narasimham Rebbapragada
Special Frontier Force-Establishment No. 22-Vikas Regiment
Please feel free to share your opinion or comments. I treated several patients who sustained injuries in Scooter accidents. I have not yet known any person who sustained injuries due to rear wheel brake failure while riding a Scooter.